Soap Shop
Showing 1–12 of 78 results
Hello and thank you for calling in. Just wanted to remind you that all my products are paraben-free, never tested on animals and responsibly sourced. Thank you for visiting. Simone x Soaps are just flying off the shelf, so I'm sorry if some are out of stock at the moment. New batches are curing all the time and will very shortly be re-stocked.
Sale!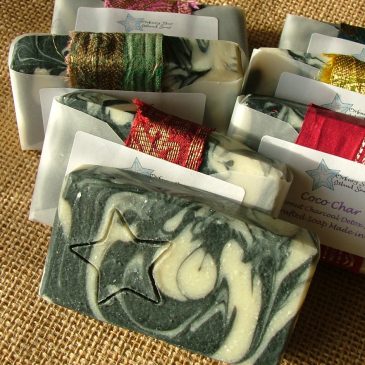 Coco Char Detox Soap 80g
The super adsorbent properties of activated charcoal in this soap make it an ideal ingredient to help cleanse the skin and gently remove toxins and oils, leaving the skin feeling smooth and detoxified without the use of any chemicals. The clay in this soap is called Bentonite Clay.  It comes from naturally occurring volcanic ash sediments, and contains over 70 trace Minerals. It is reputed to be one of the most effective and powerful healing clays. How to Use Add warm water to the soap and rub it well until you have a rich lather. Wash your skin with the lather before rinsing your face with cool water to close the pores. This soap can be used for the face and body.
not rated
£

3.70
Add to basket